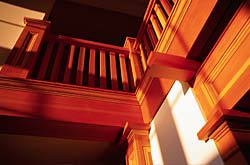 Remodeling is the best and cheapest way to have the home you want without moving. No secret there, but often people aren't ready to have their kitchen torn up or bathroom out of commission while contractors are doing the remodel. This is a necessary evil, but if you prepare for it domestically as well as mentally, it will make the experience less painful.
Controlling the Mess
If you are the type of person who is always running behind everyone with a Dustbuster and a wet rag, then having a constant mess in your house will bother you more than most. A good idea to keep your sanity is to buy some carpet pieces and lay them on your floors wherever the contractors will be walking. This will keep dust and dirt off your floors while they are walking back and forth to their trucks, and then you can put them away when they leave.
If it's possible, determine a spot where your contractors can make a mess. Ex, if they need to saw a board or sand something, anything that will kick up dust, if you can contain the dust, there will be less to clean. If they can use your garage, this is often the best place for this kind of work.
Also, have a large trash can for your contractors to use.
Determine the Best Time for Work
If you work during the day, this is obviously a good time to have contractors get to work. But most of the time, someone is home or children are coming in at all hours. Decide before work begins if you have a set time for professionals to be working on your home. Maybe you live in a secluded area and the noise, at any hour, won't bother your neighbors so your contractors can work from 6am to 7pm. It also might be the case that you only want them working from 8 to 5 so that you don't have the distraction when you get home. Tell your service professionals your time needs.
Contractor Clean-Up
Many people like to have the mess cleaned up after each day, which makes sense because no one wants to live in a messy home. However, if there are several people who spend 30-45 minutes at the end of every day cleaning up their mess and storing their tools, this will add significant time to the project. Think about having them clean up at the end of every week or some such arrangement. Depending on the length of the project, cleaning every day could add as much as two weeks onto the project and to how long your house is a mess.